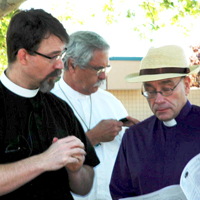 St. Paul 's Mission Statement
St. Paul's is a theologically diverse community who seeks to embrace their diversity in order to live through the Gospel of Jesus Christ and be a place of belonging for all people.
Our Clergy
The Rev. Kirk A. Woodliff, Rector
The Rev. Mike Margerum, Deacon
The Rev. Linda Smith, Deacon Retired
Church Membership
All it takes to become a member of St. Paul's Church is to have your baptismal information recorded in our parish records. If you have already been baptized in any Christian denomination and you want St. Paul's to be your church home, please contact the parish office with your baptismal information. If you don't have the details of your baptism you can still become a member of St. Paul's. Contact the parish office for more information.
If you would like to learn more about baptism please contact the parish office or speak to one of our clergy after the service.
Membership is not required for you to be active in the life of St. Paul's.